Amanté Body Band
Product Design | Role: Lead Designer
2013 | Bangalore, India

'Break Up with the wrong bra' is an advertising campaign that challenged the stigma around body shaming and educating women about the importance of wearing the bra that fits well. Amanté Body Band is a by-product of this campaign that would be available as an aid to interpret and simplify the calculations that are associated with finding the right fit. 
Awards:

Bronze in 'Product Design' for Amanté Body Band | 2013 Creative Design Abby, India
Nominee 'Design for Good' for Amanté Body Band | 2013 Kyoorius Design Awards, India
CHALLENGE:
How can we educate and empower women to wear a bra that fits correctly?
An ill-fitted bra causes physical and emotional discomfort 
and can lead to serious health problems. 
Yet, 8 out of 10 women wear the wrong size of bra 
and don't even know it. The calculations to accomplish 
the correct size are complicated and not very 
popular. Women wear what 'feels' and 'looks' right 
and that may not be the correct size. 
Step 1: Measure Underbust.
Step 2: If Odd, add 5; if Even, add 4. (Band Size)
Step 2: Measure Overbust.
Step 4: Substract overbust from underbust.
Step 5: Check Cup Chart. (Cup Size)
CONVERTING CALCULATIONS TO COLOR:
• Numbers were coverted to color coded strips
• One surface of the band measures band size by 
performing underbust measurement
• The other surface shows coordinating cup size by 
performing overbust measurement
• Easily foldable to fit in packaging and magazines
• Untearable/Unbreakable
• Not to feel unpleasant against bear skin
• Portable
• Prototypes created using paper, soft plastic, PVC 
and finally a satin ribbon
• Tested on a focus group consisting of 15 women from ages 16-55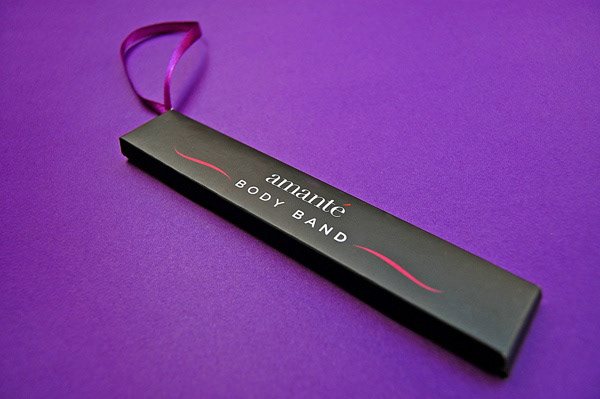 •After getting confirmation from production artists and approval from client, we were able to move forward with using satin ribbon as the chosen material.
• 
170,000 tapes were produced.
• 100,000 of those made it to women through magazines.
• Amanté Body band was awarded 'Best in Product 
Design' and nominated in 
'Design for Good' category 
at India's largest design and marketing awards event.